EASIER, FASTER AND CLEANER
SCREWFINDER® FINDS HIDDEN SCREWS IN ALL TYPES OF BOARD. REUSE THE BOARDS AND SAVE MONEY.
SCREWFINDER
The screw holder makes it possible to disassemble and remove construction boards without breaking them and without excess dust. Screwfinder is a spring loaded device with a magnet on the tip, which is used to find screws and joists in plaster and other boards mounted on walls and ceilings. When the magnet finds a screw it attaches to the screw, then gently push with a hammer to mark / remove the screw. Then unscrew the screw with a screwdriver. The disassembled disks can then be reused.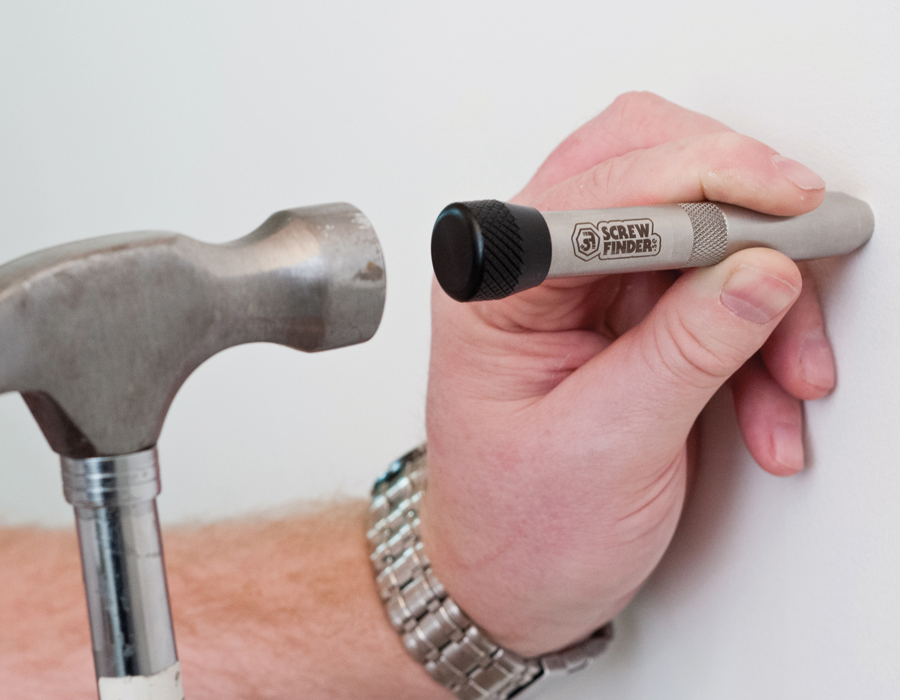 SCREWFINDER
Screwfinder allows construction boards to be dismounted and carefully removed without them breaking and without excess dust.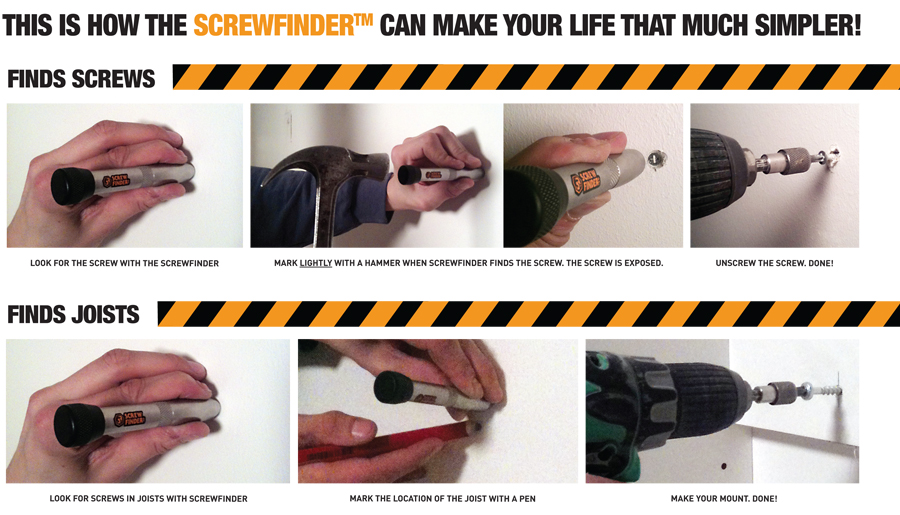 work effective with no cleaning
Dismount plaster boards intact and avoid all that cleaning! No need for breathing masks/protective masks or air cleaners/ dust traps! And no plastering the work area!
made in sweden
Screwfinder is not only a unique innovative tool, but is also made from carefully selected materials. Among other things,the steel is of the high- est quality [SS-234]. Everything needed to deal with years of hard wear.
FIND SCREWS IN WALLS
Screwfinder finds hidden screws along with joists in plaster walls, chipboard walls, MDF boards, in principle in all types of construction boards. This allows boards to be dismounted whole. They can then be reused.
What does Screwfinder® mean?
Screwfinder™ is a magnetic hand tool, which helps you to take down wall boards in one piece with a minimal of effort and cleaning. It locates the hidden screws and thus the studs, beams and girders covered by the wallboards, wallpaper, paint or plaster.


For information about Screwfinder, please contact us
Address
Screwfinder
Gelbgjutarevägen 4
171 48 Solna